Notes for Game 02
By Andrew Wolan / WRCS
Game date: July 2, 2012
Score Box


| | | | | | | | | | | | |
| --- | --- | --- | --- | --- | --- | --- | --- | --- | --- | --- | --- |
| Verdasys | 5 | 2 | 0 | 1 | 7 | 4 | 0 | | 19 | 28 | 2 |
| Softworld | 5 | 4 | 3 | 0 | 4 | 3 | 1 | | 20 | X | 3 |

Links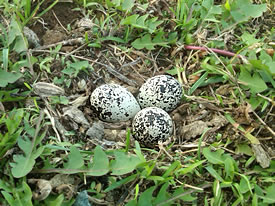 A Killdeer nest spotted in the outfield of Cusick Field. (Wolan)

Coach's Game Analysis:





Weather and Field Conditions:


Sunny, warm, comfortable. Not humid. Upper 80's. Infield was dry and hard.



Recap:


Despite a chaotic roster situation before the game, the team played hard for the entire game. Many players stepped-up and made plays to help turn a 5-run deficit into a tie-game going into the final frame. It's not easy to accept a loss in a game that the team came so close to winning. However, the fact that the team was able to battle it out for an entire game is nothing to be ashamed of.



Offense:


Batting was good. Base running was strong. Use of base coaching was done effectively and yielded some positives effects. (Refer to A-WOL's third at bat below for an example.) Only blunder was committed by Gowtham after he overran 2B on a Mark V. single and was tagged out proceeding to 3B.

As for Softworld's defense, they committed several miscues, allowing balls to drop for basehits. I would imagine their fielding situation will improve as the season progresses. Right field was an apparent soft spot of Softworld's defense, and was exploited by a few of Verdasys' batters.



Defense:


Team did a pretty good job at fielding the ball, both on the ground and in the air. However, team had trouble overthrowing ball, leading to extra bases for Softworld. This issue was caused by both the fact that many players came late and did not get a chance to warm-up pre-game, and because it's still early in the season.

As the season progresses, we'll need players to start settling in on positions so we know who to position where, and who can sub-in when needed.


| | |
| --- | --- |
| - | Gowtham is becoming a solid fielder in LF. A good pre-season pick-up. |
| - | To everyone's amazement, A-WOL didn't look too bad in CF, and was comfortable making shifts on the field. |
| - | Kevin looked quite comfortable at 3B in his first game with the team. |
| - | Heather looked pretty good in her first game with the team at 2B. |
| - | Bowler might make a good 1B due to his size and arm reach. |
| - | May want to consider either placing a guy at catcher, or use two catchers to allow for plays at the plate. The latter would be handled by positioning two women in the outfield. |
Game Highlights:
Memorable Events:
| | |
| --- | --- |
| - | Game was a rematch of the 2011 Consolation Tournament Championship Game between Impole and Softworld. Impole won that game 10-9 by shutting out Impole in two frames. |
| - | There was only one puddle on the entire field, and it was located near the 3B fence. Of course, A-WOL just happened to step in it before the start of the 1st inning. And 10 seconds after that, someone threw in a warm-up ball that bounced through said puddle. |
| - | A Killdeer bird nest was discovered in the outfield, located 20-30 feet from the fence in dead center field. An adult Killdeer was observed in the outfield defending the nest as well. |
| - | After missing the first 3 pitches, and with the threat of being assigned a defect to work on during the 4th of July break if he didn't make contact, Hebin makes good contact with ball for a blooper just behind SS. It was caught by the Softworld SS for an out. |
| - | While scoring on a Heather RBI single, Tom Cottam picked-up the bat that was lying on the base line before crossing the plate. |
| - | Game was decided in the final inning of play. Verdasys' offense went scoreless in that inning; while their defense could only convert a single out before Softworld mustered together a run for the win. |
Offense:
| | |
| --- | --- |
| Kevin: | 4 for 4 (2B, 3B, 3 run ITP HR) with 2 runs and 6 RBIs. Hit the cycle. |
| Gowtham: | 3 for 4 (3-run ITP HR) with 1 run and 5 RBIs. |
| Mark V.: | 3 for 4 (2-2B) with 2 runs, and an RBI. |
| Melissa: | 2 for 4 (2B) with and RBI. |
Defense:
| | |
| --- | --- |
| Verdasys: | tag-out of a Softworld base runner at 3B trying grab an extra base on a teammate's single. |
| Softworld SS: | line-drive snag of a Russell line-drive (3rd) |
| Softworld: | 1-2-3 inning in 3rd. |
| Verdasys: | 1-2-3 inning in 4th. (F8 A-WOL; L4 Heather, F7 Gowtham) |
| Heather: | line-drive snag at 2B. (5th) |
| A-WOL: | Diving catch in CF to end 5th. |
| Bowler: | behind the head catch at 1B. (6th) |
| Kevin: | snag of a hard line-drive to 3B. (7th) |
Milestones:
| | |
| --- | --- |
| - | Kevin becomes the second player in team history to hit the cycle. (First player was A-WOL during 2011-Game 8s) |
| - | Kevin ties team record for most RBIs in a game (6). The other players are: Ryan Grimard (2008-Game P1), Pete Vallieres (2010-Game 3), and Theo Emmett (2010-Game 5s) |
| - | Début game for Heather, Debra, Bill, Hebin, Marc and Benji (mascot). |




A-WOL Watch:





Offense:


2 for 3 with one run.

| | |
| --- | --- |
| - | Pop-up to shallow RF for out. (Green bat.) Ball was caught by Kerby (see video) who admitted at being at the right place at the right time. |
| - | Infield pop-up. (Blue bat.) Yuliana was almost tagged out at 2B after leaving 1B too late, but was safe due to obstruction at 2B. (There were two fielders on the bag, where one was blocking entry to the base.) |
| - | Infield pop-up that dropped due to miscommunication. (Blue bat.) BT to 3B on Bill's single. Distracted fielder on a grounder to 3B to give Bevington an infield hit. Scored on Bowler's FC. |



Defense:


Played 3B for one inning, (2nd), no touches. Had a hard grounder go to my left. Was playing too deep and was not comfortable playing this position.

Primarily played CF for 4 other innings. Made some great catches. New goggles are making it much easier to track down fly balls. They also make the field appear smaller, which makes chasing down balls less intimidating. They are also good at helping to deal with the sun.


| | |
| --- | --- |
| - | Running catch of a short hit into CF. |
| - | Fielded hit into CF, held runner to a single despite bobbling ball. |
| - | Came-in to play as a stationary 2B in 3rd for 2 batters. Caught two force-outs at 2B. (Including one that was low and wide.) Later backed-up 1B for another batter. |
| - | Chased after a fly ball that ended-up going over fence. Had no trouble chasing and tracking the ball. |
| - | Diving catching of hit in CF to end 5th. |
Andy Wolan is a reporter and photographer for Verdasys Softball. This story was not subject to the approval of the league or its clubs.