Notes for Game 04
By Andrew Wolan / WRCS
Game date: July 16, 2012
Score Box


| | | | | | | | | | | | |
| --- | --- | --- | --- | --- | --- | --- | --- | --- | --- | --- | --- |
| Verdasys | 3 | 0 | 2 | 1 | 0 | 3 | 0 | | 9 | 19 | 1 |
| Mass Medical | 0 | 1 | 0 | 1 | 1 | 1 | 5 | | 9 | X | 1 |

Links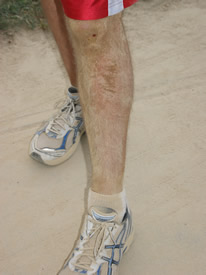 Bowler's legs were roughed-up from today's contest. (Lesson)

Coach's Game Analysis:





Weather and Field Conditions:


Hot, humid, but bearable. High 90. Became partly cloud in afternoon. Clouds provided protection from sun. Field was VERY dusty. It's in a dire need of some heavy rain to help keep the dust down in future games. Still coughing-up dust from the game…



Recap:


Game was close for the entire duration of the contest, and fun to participate in. The strong defense by Kevin, Matt and Bowler at 3B, SS and 1B respectively helped keep the team in the game and in control despite troubles scoring runs. MMS would exploit some injuries late in the game to force the game to end in a tie.

One can easily argue that either team could have won the game by as little as a run had a single play gone the other way.



Offense:



| | |
| --- | --- |
| - | Team accidently broke planned batting line-up. As a result, we had several female players batting consecutively instead of in a paired configuration. |
| - | Kevin had trouble swinging. Appears to be trying too hard at the plate. |
| | |
| --- | --- |
| - | Base running was fine with exception to base-running blunder by Gowtham. Error was made due to inexperience. |
| - | Base coaching was fine with sole exception committed by Vitello for directing Patsy to try and stretch a left field single down the 3B line into a double. |

MMS had a sharp SS, along with a pretty good crew in the infield. LF looks solid. CF and RF had gaps that could be exploited.



Defense:


Infield was sharp. Outfield didn't have much trouble fielding the ball, but had trouble attacking the ball. MMS exploited the injuries to the bench in the later innings.


| | |
| --- | --- |
| - | Kevin, Matt and Bowler played 3B, SS and 1B respectively. The trio made many great plays and are settling in as starters at said positions. |
| - | Need to start developing a second woman 2B fielder and a woman FOF. Will require practice and time. Have candidates to work with. |
| - | Outfielders need to start backing-up each other; one fielder should go after ball while the other backs him or her up. Doing so can help reduce number of 3B's and ITP HR's surrendered. |
| - | May want to consider trying Tim Notle as a FOF. |
Game Highlights:
Memorable Events:
| | |
| --- | --- |
| - | Shortly before the start of the today's game, Mass Medical learned that Verdasys will be moving into their building later this year. With Verdasys "hallway" rival RPG now gone from the league, a new rivalry between Verdasys and MMS is born. (Albeit "The Battle for Building 860".) |
| - | A-WOL kept referring to Matt as "Pete". He also nearly mistakenly took his position in the batting line-up as well. (How embarrassing.) |
| - | After hitting an RBI single to drive in A-WOL, Patsy was told by Vitello to advance to 2B, but she was tagged-out on the play. (7-4) We blame Vitello. (4th) |
| - | MMS SS hit a 3-run HR over the score-board in left field (7th) |
Offense:
| | |
| --- | --- |
| Bowler: | 3 for 3 (2B, 2-run ITP HR) with 2 runs and 2 RBIs. |
| Vitello: | 3 for 3 (3B), with 2 runs and 3 RBIs |
| Patsy: | 2 for 2 with 2 RBIs. |
| A-WOL: | 2 for 3 (2B, 3B), with one run and one RBI. |
Defense:
| | |
| --- | --- |
| Matt: | F6, L6, and later a F6 to single handedly end 1st inning. |
| MMS: | F6-U6 double play. F6 of Lesson pop-up followed by tag of 2B after Gowtham failed to return to bag. (2nd) |
| A-WOL: | tagged-out runner on 2B after both fielder and runner fell to the ground after trying to touch 2B. (2nd) |
| MMS SS: | Blocked a Matt line-drive to the ground, but recovered the ball in time to get force-out at 2B. (3rd) |
| Verdasys: | 1-2-3 inning. F7 by Kelley, K, diving catch of a short pop-up to 1B by Bowler. (3rd) |
| Kevin: | U5-3 double play. Throw was to Bowler at 1B. (5th) |
| Kelley: | made a great vertical stretch with left arm to haul-in a high-throw to 1B for the force-out to end 6th. (Go Go Gadget arm.) |
| Gowtham: | bobbled but held-on to a pop-up to shallow LF to end game. |
| Verdasys: | limited Mass Medical to 1 or fewer runners over 6 innings, including 2 shut-out innings, and a 1-2-3 inning in the third. |
| Matt: | one man wrecking crew playing SS. Made multiple line-drive snags at this position. |
Milestones:
| | |
| --- | --- |
| - | The "double-win" ties a franchise best record for a season of 2 wins and a tie set in 2009. |
| - | The team's defense set a team record of yielding only 9 runs over the course of the game. |
| - | The tie is the second in team history. The other tie occurring during the 2009 playoff game against Up-to-Date.) |
| - | Over the past 6 games (spanning into 2011), the team has a record of 4-1-1. |
| - | Historically against MMS, Verdasys has 2 win, 2 losses, a "double win" and a "double forfeit". |
| - | A-WOL made career base hits number 50 and 51 as a member of Verdasys Softball. |
Injuries:
| | |
| --- | --- |
| A-WOL: | During pre-game warm-up, A-WOL mis-gloved a throw to him by Bowler. Ball nipped glove and hit A-WOL in left knee. Ball hit a cavity in the knee. (If that makes any sense.) A-WOL walked-off the pain and would participate in the game. |
| Kelley: | Pulled a groin muscle in the 4th or 5th inning while in the outfield. He would skip his position in the batting line-up and would be limited to playing 1B for the reminder of the game. Is expected to be ok for the next game. |
| Bowler: | Tore a calve muscle on his left leg. Occurred while trying to stop at 3B after advancing on a Kevin infield pop-up. Sat-out for rest of game. Is believed the injury was brought-on after playing soccer for 3 hours the day before. Is expected to take HGH to re-grow the muscle and is expected to be ready for next week's game. |




A-WOL Watch:





Offense:


Developed a swing to drive ball into center or right-center field. Key is hit ball at the letters. Make connection with left hand driving bat, while right hand dragging head of bat back ever so slightly. (Now I need to rediscover my old infield grounder swing.)

2 for 3 (2B, 3B), with one run and one RBI.

| | |
| --- | --- |
| - | RBI 2B into center field. (Blue bat, runner on 3B) |
| - | Lead-off 3B. (Blue bat) Clinched ball cap in hand while running the bases. Scored on a Patsy hit down the 3B line, which I had to slightly move out of the way of. |
| - | Line-out to SS. Swung at pitch that was not high enough. (Blue bat.) Had I swing bat with power I might have had infield hit. |



Defense:


Warmed-up with Bowler, who can throw the ball hard with a nasty curve to it. Great for line-drive hitting simulations without the hitting. Injured knee after misplaying ball. (See notes above.)

Played outfield primarily. No fly-ball opportunities, but plenty of touches.

| | |
| --- | --- |
| - | As CF, fielded a ball that got past Tim in LF to hold runner to a 2B. Made solid throw from deep LF to Matt near 2B. (Arm-strength picking-up.) |
| - | As CF playing 2B, made tag-out at 2B. Grounder was hit to Matt, but Matt could not get a good grip on ball. Ball defected towards me, but could not get a grip of ball in time to tag 2B as I fell to ground. However, the baserunner (Raju?) overran 2B and fell to the ground as well, making it easy to tag runner for out. |
| - | As FOF in shallow RF, fielded a ball hit over 1B. Could not get to ball in time for fly-out, and had trouble fielding ball in grass for whatever reason as I tried a play at 1B. (Was perhaps rushing.) |
| - | As LF, chased down ball all the way to fence in hopes of making HR robbing catch. Slipped on irrigation control equipment near fence, so I did not charge all the way. Ball was out of reach anyways. |

Observed that whenever I played RF, MMS would direct ball into LF. And when I was in LF, they directed the ball primarily into RF.



Andy Wolan is a reporter and photographer for Verdasys Softball. This story was not subject to the approval of the league or its clubs.