Notes for Game 05
By Andrew Wolan / WRCS
Game date: July 24, 2012
Score Box


| | | | | | | | | | | | |
| --- | --- | --- | --- | --- | --- | --- | --- | --- | --- | --- | --- |
| Milestones | 0 | 0 | 0 | 3 | 2 | 1 | 1 | | 7 | X | 0 |
| Verdasys | 0 | 0 | 0 | 2 | 1 | 0 | 0 | | 3 | 16 | 0 |

Links




Coach's Game Analysis:





Weather and Field Conditions:


The pre-game weather was about as exciting at the game itself.

At around 3pm a line of thunderstorms swept through the area. As luck would have it, the Waltham area managed to avoid a cell that was headed right for it. According to radar, the heaviest parts of the storm stayed north and east of the area, essentially wrapping itself around the area, but not over it. The precipitation that radar indicated was absorbed in the air and did not reach the ground.

After that storm front passed, the sky became blue and sunny.

Before game time another storm cell developed to the north and west of the field. A rain curtain was observed trailing that storm. The core of the storm passed to the west, but the tail-end of the storm passed over the field at game time, and produced a brief downpour.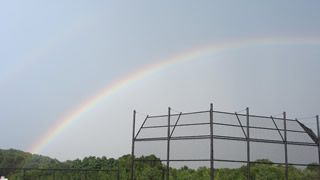 A brilliant double rainbow appeared over the field during a pre-game downpour. (Gowtham)

Midway through the downpour, a brilliant double rainbow formed over the softball field.

As the rain subsided, the cell began to re-intensify southeast of the field while continuing its trajectory south. Towering cumulus clouds were observed forming above the storm. Air to ground lighting was also observed. By timing visible lightning to audible thunder durations, it is estimated that the storm was 4-5 miles away. Eventually, the storm would go away, allowing the game to safely begin.

Conditions wise, the air was humid, but was neither hot nor muggy. Comfortable; good day for a ball game. Cloud cover blocked the sun from the fielders for most of the game, but peaked through at times. Lighting conditions were becoming unfavorable by the bottom of the final inning of play.

Rain had fallen in the early morning hours, and compact the dusty infield into a firm but forgiving surface. The downpour left a puddle near 3B, but the field quickly absorbed it. All the rain did was reinforce the firm but forgiving infield surface. Outfield grass was wet, making the field a little slippery for those without cleats. It also made fielded balls slippery to throw.



Offense:


Team collected just 3 runs in the entire game. We cashed in on 1 scoring opportunity, and created a second one with a good base hit. However, we left 2 opportunities out on the field. (One situation had just 1 out.) The M's defense did limit our scoring ability with some good fielding, especially in the outfield and at SS.

Obviously, our scoring machine needs some work. The team now has 5 games worth of batting statistics and data in which they can examine. This should help the team fine-tune things to produce more runs.

As for the base-running blunders, I think our base-coaching took their guard down at the wrong time. This could have been caused by the chaotic environment during the game. (Rain, rainbow, people having trouble reading scorebook, etc.)



Defense:



| | |
| --- | --- |
| - | Matt continues to be incredible at SS, even made a double play. |
| - | Kevin continues to flex his muscles at 3B. |
| - | Cottam and Gowtham were a powerful defensive duo in the outfield. Both made multiple catches in the outfield to keep the M's hitters at bay and off the boards. |
| - | May want to consider playing Mark V. as a FOF or in the infield. Does not seem too comfortable in the outfield. (May just need some practice to get up to par.) |
Game Highlights:
Memorable Events:
| | |
| --- | --- |
| - | Game was the second season in a row against Milestones in which the teams had to content with a downpour right before the game. At least this time the field did not require any prep work. |
| - | Because of a groin pull from a previous game, a base runner had to pitch-run for Bill. This base runner stood near home and ran to 1B whenever Bill made a hit. |
| - | Kevin hit what should have been an ITP HR. Kevin paused for a little bit while rounding third before heading home to score. He might have advancing after seeing to whom the ball was thrown. However, the fielder, perhaps unaware of this, threw ball to the pitcher (Tim C.) who caught the ball before Kevin scored, causing the play to be dead. Kevin gets a 3B instead. In the future, the pitcher should only face the fielders when the play is over. (4th) |
| - | With runners on 1B and 3B, Yuliana hits a grounder to 3B. The runner on 3B (Tim N.) is not forced to advanced. However, Tim N. mistakenly ran on contact. Since the third baseman was playing in, the fielder gets the ball ahead of the bag and near the baseline. The two players then met on the baseline, and the fielder tags Tim N. for an easy out. Yuliana is awarded a hit because at worse the play should have at worse ended with a SAC if it were not for Tim N.'s base running mistake. (5th) |
| - | With Gowtham at 1B, Nancy hits a grounder to the SS, who was unable to field the ball cleanly. For whatever reason, Gowtham hesitated running to 2B when the hit ball became a clear grounder. The SS had time to recover from mishandling ball to make a force-out at 2B. Nancy is credited with a hit because Gowtham would have been safe if not for the base running mistake. (6th) |
Offense:
| | |
| --- | --- |
| Bill: | 3 for 3 with one run scored. (Gowtham pitch-ran for him.) |
| Matt: | 2 for 3 (2B) with an RBI. |
| Heather: | 1 for 2 with one run scored. |
| Jorge: | 1 for 2 (2B) with an RBI. |
Defense:
| | |
| --- | --- |
| Verdasys: | 1-2-4 inning in 1st. (6-3 Matt to Bill; F8 Cottam; F7 Gowtham) |
| Verdasys: | 1-2-3 inning in 2nd. (Running infield F5 catch by Kevin; F8 Cottam, F7 Gowtham… yes again.) |
| Verdasys: | 1-2-4 inning in 3rd. (F6 Kevin; F8 Cottam; 5-3 Kevin to Tim C.) |
| M's SS: | caught pop-up just outside the infield, fell over, but retained the ball to deny Mark V. a hit. (2nd) |
| M's 3B: | tagged out Tim N. trying to score on Yuliana's infield grounder. (5th) |
| Matt: | U6-3 double play. (7th) |
| Verdasys: | Gave-up a total of 7 runs, lowest amount in franchise history. (Beats old record of 9-runs set in 2012-Game 4 last week.) Gave-up 1 or fewer runs over 5 innings, including 3 consecutive shut-out innings (a franchise record), a 1-2-3 inning and a pair of 1-2-4 innings. Team did not yield a HR. |
Milestones:
| | |
| --- | --- |
| - | Rainbow is second observed before game time in Verdasys Softball history. (Other game: 2009-Game 8). It is the fourth witnessed by the team's writing staff. |
| - | See above notes for "Verdasys" under "Defense" for additional milestone. |
Injuries:
| | |
| --- | --- |
| - | Bowler came to the game but was limited to bench coaching after tearing a muscle in his left leg in the previous game. |
| - | Kelley was limited to 1B for a few innings on defense. Offensively, he batted but requires a pitch-runner to run for him. |




A-WOL Watch:


Kept an eye on the clouds before the game. Identified a rain curtain that had widened before the field was inundated with rain. It gave people enough time to collect their gear and take shelter when the rain hit.



Offense:


1 for 2.

| | |
| --- | --- |
| - | Hit grounder past SS. (Blue bat.) |
| - | Soft line-drive to SS. (Blue bat.) Left runners on 2B and 3B. Was distracted prior to my at bat, so my mind was not in it. In fact, I lost track of when my at bat was coming. Next time when my at-bat ia near, hand the scorebook to someone. |

Used batting glove on left hand only. (Could not locate other glove before at bat.) Impact unknown. Tried to hit ball into CF, but did not put enough power into swing, so they did not clear infield.



Defense:


Played RF off and on. Two touches, 1 put-out.

| | |
| --- | --- |
| - | Fielded ball that got past infield and threw it to 2B to help hold runner to a single. |
| - | F9 to end top of 7th. (Played somewhat deep, chased ball in correctly.) |
Andy Wolan is a reporter and photographer for Verdasys Softball. This story was not subject to the approval of the league or its clubs.