Notes for Game 09
By Andrew Wolan / WRCS
Game date: Aug 22, 2012
Score Box


| | | | | | | | | | | | |
| --- | --- | --- | --- | --- | --- | --- | --- | --- | --- | --- | --- |
| Verdasys | 5 | 2 | 4 | 0 | 1 | 0 | 0 | | 12 | 23 | 1 |
| Bay Financial | 2 | 1 | 2 | 3 | 0 | 0 | 5 | | 13 | X | 0 |

Links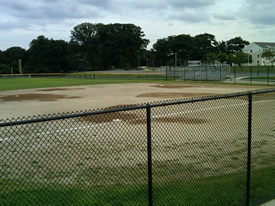 A look at the fielding work done by A-WOL the weekend before the game. (Wolan)

Coach's Game Analysis:





Weather and Field Conditions:


Sunny and warm, high 82. Sun was a factor for those playing RF and CF, until sunset. A-WOL worked the infield the weekend prior to the game; he removed all standing water near 2B and the mound, and then leveled the playing surface around home plate, the mound, 1B, 2B and 3B. He also chalked the foul lines. Needless to say, infield was in great condition.



Recap:


A hallmark of the team for most of the season has been its defense. Anchored by Matt at shortstop, the team has relied on a strong D to keep it in games. But in today's game, the defense was at best inconsistent. Surprisingly, it was the offense that carried the team, spotting the team a lead for the entire game.

However, with a 4-run lead going into the final frame, the team caught the "last inning jitters" and had trouble making outs. The team overcompensated on botched plays and made either unnecessary or careless throws that netted the opponents extra bases. The lead was lost as Bay Financial rallied to snag a win from Verdasys' grasp. It was a very difficult inning to watch unfold, even on film.



Offense:


Created line-up before the game, but had to make some changes at game time. Top half worked well. Bottom half was not as productive as I hoped. I should have considered having batters share a spot in line-up to have top part recycle in sooner. Overall, offense was good.

Bay Financial's defense (B.F.) was sloppy in the first inning, but improved during the course of the game. Their infield was effective at handing ground balls and making outs. Their SS was rock solid against grounders, and worked effectively with their 2B player. Their outfield was inconsistent at best, which appears to be their greatest weakness. If you want to score runs, attack their outfield.

The B.F. insisted on having a rule that made over-throws to 1B or 3B that hit the fence be ruled "out of play," giving the base runner an extra base. (The rule is silly considering there is a fence around the field.) I personally prefer the rule of "the batter has to earn the advance, but can only advance one base". I forgot to chat with the B.F. team captain about this matter before the game because I was busy with camera setup and the batting line-up. The rule ended-up favoring B.F. heavily in the game.



Defense:


With exception of their sole lefty, the B.F. batters did not hit the ball for power. Tom Cottam, who started LF, only had one fly ball to contend with. (2 were down the LF line.) In the early going, a few balls were hit into CF. B.F.'s lefty was hitting the ball fairly well into right field, hitting 3 or 4 fly balls into that area. Overall, most of B.F.'s outfield hits were into shallow LF or CF.

We did a good but inconsistent job covering the shallow parts of the field. I believe the heavy rotation of players in the OF created problems in not allowing the team to develop any consistency in dealing with certain B.F. batters.

It might sense to play a FIF against B.F. Many of B.F.'s grounders were hit up the middle toward the SS or 2B side of the bag. Having someone in front or behind 2B would help protect against such hits. In addition, the B.F. base runners also like to run. Having a good player covering home plate is a must to keep run production down. (NOTE: having the first basemen cover home plate can be a bit risky; it allows a batter-runner to take a big lead while rounding 1B, and easily advance to 2B if a throw is made to 3B or home. Reason: no one is covering 1B. A FIF can help matters.) Matt did a good job at SS, but since we never developed a 2B player this season, hits to 2B tend to net a hit for B&F. Last inning jitters

In the final inning of play, the team was up 4 runs. The defense had only given-up 8 total runs. In the previous inning, the infield netted a 1-2-3 inning. Everything was looking good. But in final frame, the defense just could not make outs. Eventually, the team gave-up the lead and lost the game.

So what happened? I've seen teams do this before, and I call it "the last inning jitters". A team comes into the final inning of play with a lead. The team's defense has been playing good for the duration of the game. But for whatever reason, the team gets anxious about closing out the game and starts to play poorly.

It usually starts with a hit that a fielder could not make a play on. (Either because the play was out of reach or the play was botched.) The team will then become aggressive and try to compensate for the previous play with a "great play". But that "great play" attempt usually ends up becoming a bad play. In the end, all this "great play" does is give the other team some free extra bases.

But on the flip side, the only effective way of getting a team out of this funk is to make a play, be it a routine out or a "great play".

So what can you do? Either:


| | |
| --- | --- |
| - | Field your best fielders or those who have are having a good game again the current team. Odds are they'll have the confidence to make plays and won't feel too down when they can't makea play. Thus, there will be little desire to "over compensate". They might even have come-up with tricks in dealing with certain batters. |
| - | Have the team play conservatively and to not make unnecessary throws. Eventually, the other team is going to hit a ball the team can field and make a play; be patient and wait for your chance. If the other team wants to play aggressive, let them do so, ("defensive indifference"). Only make an aggressive play against someone who is being too aggressive. (Odds are, they'll be vulnerable and can be nabbed for an out.) |

Of course, if the other team is making good hits and is hitting the ball to where you can't field it, then there is little you can do.




Game Highlights:





Memorable Events:



| | |
| --- | --- |
| - | Before the game, Russell was given the last available team t-shirt. He's uniform number is now #14. |
| - | The two teams played in the league's final game of the regular season. |
| - | Was the debut game for Luke DelVecchio. |
| - | Melissa misplaced her shoes and played barefoot for the entire game. (Rumor has it she misplaced her shoes while painting her nails.) Later made a nice running catch in shallow RF. (3rd) |
| - | A hawk was observed flying around the field during the game. Perhaps it was hunting rabbits? |
| - | The game was captured using 3 video cameras and one still camera. The video cameras were positioned as followed: one fixed behind 1B, one fixed covering LF and a handheld unit in the dug-out / behind 3B. (Sadly, the camera behind 1B stopped recording part-way through the 6th inning.) The still camera was operated by Heather near 1B. |
Offense:
| | |
| --- | --- |
| Cottam: | 2 for 3 (3-run ITP HR) with 2 runs and 5 RBIs. |
| Tim C: | 3 for 3 (3B) with 3 RBIs. |
| Patsy: | 2 for 3 with a run. |
| Lesson: | 1 for 2 with a run score. |
| A-WOL: | out-ran a possible 6-3 ground-out for an infield hit against a solid B.F. SS. (7th) |
Defense:
| | |
| --- | --- |
| Tim C.: | grabbed a Kevin toss to 1B that one-hopped into the dirt for the out. (2nd) |
| Melissa: | running catch of a short flyball into shallow right field. (3rd) |
| Matt: | leaping catch of a line-drive over short (5th) |
| Bay Fin: | running catch of a Patsy pop-up in RF foul territory. (5th) |
| Verdasys: | 1-2-3 inning in the 6th. (6-3 Matt to Tim C.; F3 Tim C.; F6 Pete) |
| Verdasys: | defense did not give-up a HR. |




A-WOL Watch:





Offense:


1 for 2 (SAC) with an RBI. Used blue-bat exclusively. After 1st AB, I got away from trying to hit the ball into CF and into LF instead. (Must have thought my odds were better.)


| | |
| --- | --- |
| - | SAC fly ball into CF to drive-in Jorge. Swung bat mostly with wrists, ironically. |
| - | Hit grounder to SS for FC at 2B. Chased a ball outside. |
| - | Hit grounder to SS and beat throw to 1B for a hit. (Of course, there is not camera recording of that play.) First true infield hit of the season. Vin flew-out into deep LF to end inning. |

Base hit was unusual in that it was the first time this season in which I outran a throw to 1B for a base hit. In past seasons, my swing would drive the ball into LF. End results were primarily a fly ball into LF, a line-drive or grounder between 3B and 2B. This season, I have changed my swing to drive the ball into CF. End results were primarily a fly into CF, a line-drive or grounder up the middle.

Given that my batting average has not changed much since last season, it is safe to say that this season's swing has resulted in hits that relied less on my ability to out-run throws to 1B.



Defense:


Did not warm-up before the game. (A cardinal sin.) As a result, I had trouble fielding balls. I also became squeamish when catching the ball, thinking the ball will hit me in the face. Need to start using free hand to protect face in case such events occur.

Played LF. Saw no action, with exception to a ball that leaked through infield. Also played shallow LF. Had a ball hit to me behind 2B. Was positioned to grab it, but Matt leaped-up at the ball, making me think that either he'll grab it, or it'll tip his glove. Position self to protect myself incase ball was tipped. Ball was NOT tipped, so a possible clean catch was botched.

I also dived at a ball that was just out of my reach. Had a good track but failed to extend arm at the last moment to where the ball was going to land. My failure to extend the arm was most likely done to protect myself from the ball in case I misjudged it.



Epiphany:


One cannot handle being a team manager, camera man and a player all at once in the same game. Something has to give.



Andy Wolan is a reporter and photographer for Verdasys Softball. This story was not subject to the approval of the league or its clubs.